Our strategic direction and mission
Our 2021-24 Strategic Plan is the next step in our journey—our roadmap for delivering on our mission every day
The plan outlines our aspirations for the next three years across the organisation and the key priorities of our three key service streams: Aged Care Services, Families and Young People Services, and NDIS and Community Support Services.
With five new strategic pillars helping us navigate this 3-year journey; harmonisation, sustainability, practice and clinical excellence, whole of community and people and leadership, we continue the mission of the work of the Sisters of Mercy, as a Ministry of the Catholic Church, under Mercy Partners.
In delivering on this plan, we will be reaching upward, outward, and inwards, always striving to achieve the best outcomes for the people we support as well as supporting and our expanding our amazing Mercy Community team.
Every day we find a way to deliver on our mission.
Valuing, supporting and inspiring people at the heart of the communities and sectors in which we operate.
Ensuring we have the right balance of services with sufficient scale and maturity of practice to ensure longevity of our impact in our community.
Our five strategic pillars
Our five strategic pillars will inform our decision-making over the next three years:
The strategy for Mercy Community's work over the next three years is interwoven with our purpose as a Catholic Ministry of Mercy Partners in the tradition of the Sisters of Mercy. The business decisions we make and the services we provide are—and will continue to be—informed by our enduring mission, vision and values.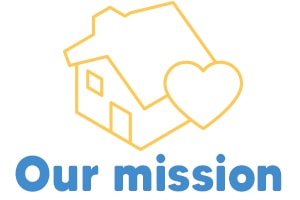 To support and inspire people in need to live healthy, connected lives within inclusive communities.
A world where people, families and communities are strong in spirit, healthy and connected.
All our work is driven by our following core values…
We act compassionately and courageously, open to others and to their needs, nurturing hope and joy.
We embrace unconditionally the uniqueness and diversity of people, fostering quality and fairness in relationships.
We are committed to quality, continuous learning and improvement.
We treat all people with respect, accepting their right to spiritual, emotional and physical safety and care.

We assist and advocate passionately for and with people, enabling them to make life enhancing choices and to gain control over life shaping decisions.
We act ethically, justly and honestly.
Connecting you to the support you need