Building Queensland's disability sector . . .
The Exceptionally Complex Support Needs Program (ECSNP) has been established to support and grow Queensland's sector capability to ensure participants with exceptionally complex support needs are provided with professional, evidence based support that can stabilise support requirements and promote independence.
This is an industry facing program suitable for support coordinators, specialist support coordinators and members of the disability and NDIS sector. Download our fact sheet.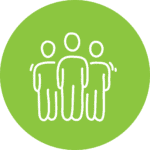 Sector and Community Development and Delivery Activities
Build stakeholder relationships in the community, removing barriers for participants with exceptionally complex support needs.
Lead and actively contribute to the promotion of knowledge exchange, workshops, best practice guides, market research, identification of sector patterns and trends, and ongoing program monitoring and evaluation.
Subject Matter Expertise (SME) Activities
Provide education, training, workshops and expert advice within the community and sector.
Build the skills, capability, knowledge, confidence and responsiveness required of support coordinators.
Increase support coordinator understanding of disability systems and practice advice relevant to the service system, such as health, mental health, education and justice, etc. to support participants with exceptionally complex support needs.
Crisis Referral Activities: for participants 18 years
The after-hours crisis referral line is in place to support NDIS participants aged 18 and over who present to emergency services due to an unplanned and unanticipated breakdown of their disability-related supports and services.
Check out our new
Indigenous resources
..for support coordinators in Queensland
Download our A4 factsheets
Download our postcard resources
Sector events ...
JUNE-OCTOBER 2021
...meet, share and learn
WE ASKED, YOU ANSWERED
We host a variety of FREE web events for NDIS Support Coordinators and other professionals in the sector to assist you when you work with participants with complex support needs. 
These are online safe spaces for the Queensland disability sector to meet, share and seek guidance from their peers, experts and others professionals from the sector and to provide everyone with the opportunity of knowledge exchange through constructive conversations around difficult topics to better understand and work towards positive outcomes for the people we support. 
Corrective Services and the NDIS
Working across the interface, free webinar, Q&A with panel of experts
Support coordination complex case review
Free webinar tackling complex cases.

Youth Justice and the NDIS: working across the interface
An online interactive event
Support Coordination & Hospital Discharge
Engage in live Q&A with our panel of experts
Who's job is it anyway? Navigating NDIS roles
Free webinar and Q&A with experts

Support coordination complex case review
Free webinar tackling complex cases

Join our mailing list for updates: